Boys over Flowers (花より男子, Hana Yori Dango), officially abbreviated as Hana-dan (花男, Hana-dan),[2] is a manga series written and illustrated by Yoko Kamio. The manga was published in the magazine, Margaret by Shueisha from March 1992 to August 2003.[1] Viz Media licensed the series for release in North America.[3] Kamio began a sequel manga in February 2015.[4]
The series was first adapted into a series of audio dramas in 1993.[5][2] It was followed by a 1995 film and a 1996 anime series.[1] The manga was also made into several television series, including Meteor Garden (2001) in Taiwan,[6] Hana Yori Dango (2005) in Japan,[7] and Boys Over Flowers (2009) in South Korea.[8] In 2018, a Chinese production of the manga premiered.[9]
Tsukushi Makino is a lower-class student at the elite school, Eitoku Academy. Her life changes when she angers Tsukasa Domyoji, the leader of the F4. He ends up falling in love with her, though she completely hates him. Boys Over Flowers chronicles the ups-and-downs of their relationship as they become friends and eventually date.
Summary
Tsukushi Makino, who comes from a middle-class family, is a second-year student at the prestigious school, Eitoku Academy. The school is ruled by the F4, consisting of Tsukasa Domyoji, Rui Hanazawa, Sojiro Nishikado, and Akira Mimasaka. Tsukushi tries to ignore their antics until her friend angers Tsukasa. She stands up for her and receives a red card, which causes the other students to begin bullying her. Tsukushi fights back by declaring war on the F4. Tsukasa then sends some goons to assault her, but Rui saves her. The next day, she kicks Tsukasa in the face. He takes a liking to her afterwards and tries to impress her without much success. Meanwhile, three girls, namely Yuriko Asai, Minako Yamano, and Erika Ayuhara, become jealous of Tsukushi. They embarrass her at a party, while pretending to be her friend.[10]
After humiliating Yuriko and her friends, Tsukushi gains three enemies. They tell her about Rui's first love, Shizuka Todo, and her upcoming return. This comes as a shock to Tsukushi as she has developed a crush on Rui. After Shizuka returns, Tsukushi resolves to separate herself from the F4. Her childhood friend, Kazuya Aoike begins attending soon after. Tsukasa, envious of Kazuya, sends him a red card. Later, Rui protects Tsukushi from a group of bullies, which angers Tsukasa. He then severs his friendship with Rui. Tsukushi stays home the next day due to a fever. Tsukasa pays her a visit and offers to pay for to go on the school's trip. She opts to go to Atami with Kazuya instead. The trip takes a turn, when Tsukasa and their classmates arrive on his yacht.[11]
Manga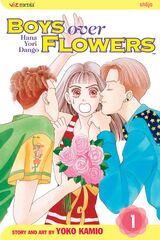 Boys Over Flowers was serialized in the manga magazine, Margaret from March 1992 to August 2003. The series reached thirty-six volumes in length by the end of it's run. Yoko Kamio penned a special chapter of the series in 2006 and another two in 2008, leading to the release of the thirty-seventh volume, titled Boys Over Flowers: Jewelry Box by Viz Media. Shueisha published all thirty-seven volumes of the manga in Japan, and later reprinted the series into twenty volumes for the "Complete Edition".[1][12] It was licensed and released in North America by Viz Media.[3]
The manga won the 41st Shogakukan Manga Award in the shojo category.[13] It is currently the best-selling shojo manga of all time, having sold over 53 million copies[14] with a total 61 million copies in circulation.[15] Boys Over Flowers is also one of the best-selling franchises in Japan.[16]
Sequel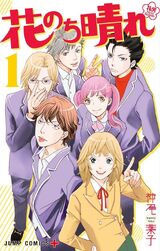 Yoko Kamio began a sequel to the series titled, Boys Over Flowers Season 2 on February 15, 2015. It is simultaneously released on Shueisha's Shonen Jump+, and Viz's website and app.[4] The series' eleventh volume was published on December 4, 2018.[17] In 2018, it was adapted into a Japanese drama starring Hana Sugisaki and Sho Hirano.[18]
The sequel follows a new generation of students at Eitoku, including the series' leads Oto Edogawa and Haruto Kaguragi. It is set about three years after the ending of the original series. The F4 are frequently mentioned in the series and each have cameos.
Adaptations
Audio drama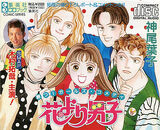 Hana Yori Dango was adapted into a series of three audio dramas from July 1993 to July 1994.[5] All three were released on cassette and CD book.[1] The audio drama starred Takuya Kimura (from SMAP) as Rui Hanazawa, Chisa Yokoyama as Tsukushi Makino, and Takumi Nishio as Tsukasa Domyoji. Yoko Kamio sat in for part of the recording and was happy with the results. Kamio and Kimura later posed for photos, which were published in Margaret.[19][2]
Live-action film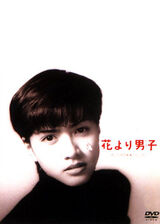 The first live-action adaptation of Hana Yori Dango was released on August 19, 1995. The film starred Yuki Uchida as Tsukushi Makino, Shosuke Tanihara as Tsukasa Domyoji and Naohito Fujiki as Rui Hanazawa.[20] The movie was released on video tape in 1997[21] and DVD in 2001.[22] It was also released in a box set with five other shojo adaptations.[23]
The theme songs for the film were Uchida's "Baby's Growing Up" and TRF's "Overnight Sensation".
Anime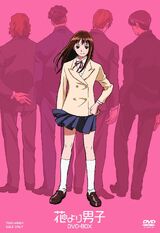 The anime was directed by Shigeyasu Yamauchi and produced by Toei Animation, Asatsu-DK, and ABC TV. It originally aired from September 8, 1996 to August 31, 1997 for fifty-one episodes.[24] The anime has been released on video cassette in 1997 and on DVD in 2006.[25] It was licensed for released in North America by Viz in 2003,[26] and by Discotek Media in 2015.[27]
Hana Yori Dango: The Movie, a short film, premiered on March 8, 1997 at the Spring Toei Anime Fair.[28][29] The film is set in alternate universe, where Tsukushi is an aspiring dancer on Broadway.[30]
Television dramas
Taiwan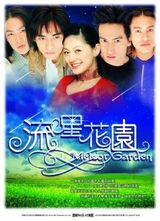 Meteor Garden was the first television drama adapted from Boys Over Flowers.[31] It was produced by Angie Chai and directed by Tsai Yueh Hsun. Barbie Hsu, Jerry Yan, and Vic Chou starred as the series' leads Shan Cai (Tsukushi), Dao Ming Si (Tsukasa), and Hua Ze Lei (Rui).[32] The series aired on the free-to-air CTS from April 12, 2001 to August 16, 2001. It was a breakout success.[33]
The drama's popularity lead to the production of two sequels, Meteor Rain (2001) and Meteor Garden II (2002).[34]
Japan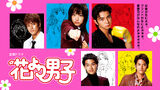 A Japanese adaptation of Hana Yori Dango aired from October 21, 2005 to December 16, 2005 for nine episodes.[35] Mao Inoue, Jun Matsumoto, Shun Oguri, Shota Matsuda, and Tsuyoshi Abe starred in the drama as Tsukushi and the F4 members.[7][36] The drama had high ratings with it peaking at 22.4%.[1]
Hana Yori Dango Returns, a sequel, was released in 2007 for broadcast on TBS.[37] The sequel also enjoyed high ratings, peaking at 27.6% for the final episode.[1] In 2008, a film sequel titled, Hana Yori Dango Final, premiered.[38] Final was a box office success in Japan, earning over seven billion yen.[39] The adaptation of Boys Over Flowers Season 2 is also a sequel to TBS's Hana Yori Dango series.[40]
South Korea
In late 2008, a South Korean television adaptation of Boys Over Flowers was announced.[41] The drama aired from January 5, 2009 to March 31, 2009 for twenty-five episodes on KBS2. It starred Ku Hye-sun (Geum Jan-di), Lee Min-ho (Gu Jun-pyo), Kim Hyun-joong (Yoon Ji-hoo), Kim Bum (So Yi-jung), and Kim Joon (Song Woo-bin).[42]
The drama had high viewership ratings throughout its entire run.[43] Boys Over Flowers was followed by a four-part music drama in late spring 2009.[44][45]
China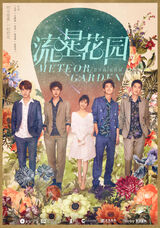 In April 2017, Angie Chai, who produced the first Meteor Garden, announced her plan to remake the series.[46] The main cast of the drama was unveiled at a press conference in Shanghai on November 9, including Shen Yue as Shan Cai and Dylan Wang as Dao Ming Si.[47] Chai began the post-production process, shortly after it concluded filming on March 22, 2018.[48]
Meteor Garden began airing on July 9, 2018 in China on Hunan Television.[49] Netflix licensed the series for a global release,[50] excluding the Philippines, Thailand, and Indonesia.[51]
Other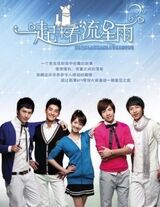 The series concept has become popular among many countries, inspiring several unlicensed and/or loosely-based adaptations:
Musicals
Japan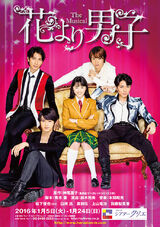 Hana Yori Dango: The Musical was first announced in April 2015.[58] The main cast was revealed on August 19, 2015. Ririka Kato won the role of Tsukushi out of 3,000 other participants, while Yuya Matsushita, Jin Shirasu, Mackenyu, and Ryuji Kamiyama were cast as the F4.[59] Further members of the cast were announced in September 2015, including Nao Furuhata, Ryo Kimura, and Nami Tamaki.[60]
Practice for it commenced on November 18, 2015.[61] The musical premiered on January 5, 2016 at Theatre Creation in Tokyo,[62] followed by performances in Fukuoka, Nagoya, and Osaka.
South Korea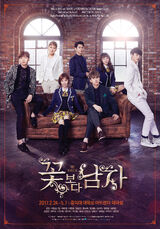 A Korean adaptation of the Japanese musical was first announced in November 2016.[63] Yumi Suzuki (director), Go Aoki (scriptwriter), and Akimitsu Honma (composer) all returned from the original production. Boys Over Flowers: The Musical premiered on February 24, 2017 at Hongik University Daehakro Art Center in Seoul.[64]
The star-studded cast of the musical was revealed in January 2017, including singers J-Min and Min alternating the part of Tsukushi. Tsukasa was played by Lee Chang-sub, Ken, and Kim Ji-hui, while Lee Sung-min, Jeong Whi, and Kim Tae-oh portrayed Rui.[64]
Takarazuka
In January 2019, the Takarazuka Revue announced its plans to stage a musical of Boys Over Flowers. It will star Rei Yuzuka and be performed by the Flower Troupe. Kosaku Noguchi is set write and direct.[65]
Related media
Video games
Three video games based on
Hana Yori Dango
have been produced:
Books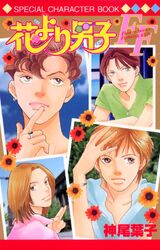 Several books related to
Boys Over Flowers
have been published. Kamio was involved in varying capacities with the books:
References
↑ 4.0 4.1 http://www.animenewsnetwork.com/news/2015-02-09/viz-shonen-jump-to-add-new-boys-over-flowers-season-2-manga/.84264
↑ 5.0 5.1 http://www.g-root.jp/buyandsell/av/AV00845.html (Japanese)
↑ http://www.animenewsnetwork.com/news/2007-05-14/boys-over-flowers-forces-f4-idol-band-to-rename-itself
↑ http://www.animenewsnetwork.com/news/2009-01-05/korean-live-action-hana-yori-dango-gets-14.3-percent-rating
↑ http://www.animenewsnetwork.com/news/2007-12-10/2-issue-boys-over-flowers-side-story-revealed-in-japan
↑ https://www.animenewsnetwork.com/news/2018-12-19/top-selling-media-franchises-in-japan-2018/.141064
↑ https://www.amazon.co.jp/dp/408881651X/ (Japanese)
↑ https://natalie.mu/eiga/news/266412 (Japanese)
↑ Boys Over Flowers volume 4, side-columns
↑ http://www.amazon.co.jp/dp/B00005F9Y4/ (Japanese)
↑ http://www.amazon.co.jp/dp/B00005MIC9/ (Japanese)
↑ http://www.amazon.co.jp/dp/B00005NJQI/ (Japanese)
↑ http://www.animenewsnetwork.com/news/2015-08-27/discotek-adds-hana-yori-dango-07-ghost-beelzebub-kyousougiga-getter-robo-armageddon-z-x-ignition-karate-master/.92209
↑ Media Across Borders: Localising TV, Film and Video Games, Andrea Esser, Iain Robert Smith, Miguel Á. Bernal-Merino, Routledge, 2016, 9781317610793, page 156
↑ http://www.f4.tv/mg/mg1/staff.html (Japanese)
↑ Advancing Comparative Media and Communication Research, Joseph M. Chan, Francis L. F. Lee, Taylor & Francis, 2017, 9781351715898, page 224
↑ http://www.tbs.co.jp/hanayoridango/story.html (Japanese)
↑ http://www.animenewsnetwork.com/news/2007-08-20/hana-yori-dango-final-movie-to-end-live-action-drama
↑ http://www.animenewsnetwork.com/news/2009-01-29/2008-top-domestic-movies-at-japanese-box-office-final
↑ https://natalie.mu/eiga/news/266412 (Japanese)
↑ https://www.dramafever.com/news/meteor-garden-taiwans-boys-over-flowers-gets-a-fresh-remake-after-16-years/
↑ http://www.straitstimes.com/lifestyle/entertainment/meet-the-new-shancai-and-f4-in-the-2018-meteor-garden-tv-reboot
↑ http://www.sohu.com/a/238269854_114780 (Chinese)
↑ https://www.scmp.com/magazines/style/news-trends/article/2154817/new-f4-are-ready-charm-viewers-netflixs-meteor-garden
↑ http://marlina1199mh.blogspot.com/2012/12/siapa-takut-jatuh-cinta-sebuah-bentuk_21.html (Indonesian)
↑ http://style.tribunnews.com/2017/10/08/remake-siapa-takut-jatuh-cinta-dikomentari-barbie-hsu-apa-kata-san-chai-asli (Indonesian)
↑ http://post.yule.tom.com/3C000912736.html (Chinese)
↑ http://www.filmibeat.com/television/news/2015/parth-samthaan-bid-adieu-kaisi-yeh-yaariyan-dilwale-shahrukh-style-pic-208589.html
↑ https://www.animenewsnetwork.com/news/2019-01-11/boys-over-flowers-manga-gets-musical-by-takarazuka-revue-flower-troupe/.141933
↑ http://www.konami.jp/hanadan/index.html (Japanese)
↑ http://www.amazon.co.jp/dp/4086118327/ (Japanese)
↑ http://www.amazon.co.jp/dp/408614428X/ (Japanese)
↑ http://www.amazon.co.jp/dp/4087805719/ (Japanese)
See also
External links