"I love reading books and watching movies. I enjoy foreign cop drama books, and when it comes to movies I tend to watch action and suspense horror. I rarely watch romance movies. Come to think of it, I don't really read romance manga either... That's not good given that I draw shojo manga."
—Yoko Kamio, 2017
Boys over Flowers Season 2 7 (花のち晴れ〜花男 Next Season〜 7, (花のち晴れ〜花男 Next Season〜 7 Hana Nochi Hare ~HanaDan Next Season~ 7) is a collection of the series, Boys Over Flowers Season 2 by Yoko Kamio. It was published in Japan by Shueisha on August 4, 2017.[1] The volume sold 28,822 during the first week of August,[3] and sold 60,703 copies by August 13.[4] It was published digitally in English on January 23, 2018.[2]
The F4's Sojiro Nishikado helps Haruto Kaguragi prepare to face off against Tenma Hase at the "Manly Man Festival". Tenma easily beats Haruto in the first round. However, everything changes when he discovers that Hitoshi Konoe lied about not being involved in the Eitoku harassment.
Book description
"The rivalry between elite schools Eitoku Academy and Momonozono Academy turns into an all-out battle when Tenma Hase, Momonozono's student council president and fiancé of Oto Edogawa, challenges Haruto Kaguragi, the leader of Eitoku's Correct 5 and Edogawa's would-be suitor, to a showdown at the Manly Man Festival! Haruto's at an overwhelming disadvantage against martial arts expert Hase, but with some help from Sojiro Nishikado of the F4, he prepares to win the fight…and Edogawa's heart!"
—Viz description[5]
Summary
Tenma Hase challenges Haruto Kaguragi to compete against him in the "Manly Man Festival". The contest will be held in two weeks at Eneiji Temple in Kyoto. Haruto immediately goes to Sugimaru Eibi for help with his training. Several days later, Oto Edogawa learns about the competition from Hitoshi Konoe, who plans to announce it to every student at Eitoku and Momonozono.[6] Word about the contest spreads like wildfire among the students. Meanwhile, Haruto's training in Kyoto is not going so well. He happens to meet the F4's Sojiro Nishikado. After hearing Haruto's story, Sojiro agrees to help him practice archery.[7]
Under Sojiro's tutelage, Haruto's archery skills improve considerably, though it is still a long shot for him to win. At the same time, Tenma is training vigorously at kendo, while ignoring Oto's phone calls. On the day of the competition, Oto and Airi Maya head to Kyoto on a train with the other Eitoku students.[8] The first round ends quickly, when Tenma swiftly takes Haruto down in judo. Afterwards, Oto goes to talk to Tenma, but she receives a video from Konno on the way. The video shows Oto's confrontation with Konoe several days ago, in which he confesses to the Eitoku attacks. Tenma happens to hear it.[9]
Tenma is shocked to learn that his friend, whom he defended so vehemently, lied to him. He is late for the second round, and ends up losing. Later, Tenma punches Konoe and tells him to never "show [his] face in front of [him] again." Haruto wins the whole competition by default when Tenma does not show up for the final round.[10] After the competition, Haruto feels conflicted about the way he won, but Sojiro tells him "a win [is] a win." He then takes Sojiro's advice to ask Oto to meet him at Shijo Ohashi Bridge. She tells him that she has to go meet Tenma, to which Haruto declares "go break up with him!" Meanwhile, Konoe is beaten by his former associates, after he tries to break off their partnership.[11]
Haruto promises to wait at Shijo Ohashi Bridge, though Oto declines to meet him. She says to herself that the day she met Haruto "[her] life started to go off the rails." Oto then finds Tenma outside his Kyoto home. They go on a walk together. He apologizes for not believing her earlier, telling her that he "lost sight of what was most important." Tenma asks her about Haruto, which makes her irritated as she insists that she is completely different from him. Seeing the emotion on her face, Tenma realizes her true feelings and ends their engagement. They are then attacked by the three guys who beat up Konoe. Tenma is stabbed in the shuffle. In the meantime, Haruto is still waiting for Oto at the bridge.[12]
Contents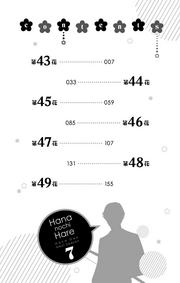 Editions
See also: Foreign editions of Boys Over Flowers
Sourth Korea: Seoul Media Group released the volume in Korea as 꽃보다 맑음7 on February 28, 2018.[21]
Taiwan: the volume was published as Meteor Garden Next Season 7 (流星花園~Next Season~7) by Tong Li Comics on November 27, 2017.[22]
Notes
References
See also
External links