"Boys Over Flowers Season 2 is getting a live-action TV drama—just like the original Boys Over Flowers did. It's such a treat to view my work as a regular audience member, but I'm always nervous when I watch the show. I'm so thankful to the many people who had a hand in creating the show, and it makes me want to try even harder in the future."
—Yoko Kamio, 2018
Boys over Flowers Season 2 9 ( 花のち晴れ〜花男 Next Season〜 9, 花のち晴れ〜花男 Next Season〜 9 Hana Nochi Hare ~HanaDan Next Season~ 9) is ninth collected edition of the manga, Boys Over Flowers Season 2. It was published on April 4, 2018 in Japan.[1] The volume sold an estimated 53,379 copies by April 8.[3] It was published by Viz Media on September 25, 2018.[2]
Book description
"A summer snorkeling excursion goes south when Oto and Haruto end up stranded in the open ocean. As they wait for rescue, Oto tells Haruto how much she regrets standing him up in Kyoto. But will her heartfelt confession move him? Then, Haruto finds himself in the deep end again when he returns to a home where he is no longer welcome..."
—Viz description[4]
Summary
Contents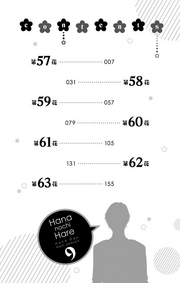 Chapter 57: Oto Edogawa and Haruto Kaguragi find themselves stranded in the ocean, when their ship accidentally leaves them behind. The chapter was released in September 2017.[5]
Chapter 58: first published on October 1, 2017,[6] Airi Maya and Tenma Hase save Haruto and Oto in the nick of time.
Chapter 59: Haruto learns that his father has disowned and made Kei Windsor his heir. It was published in October 2017.[7]
Chapter 60: Oto allows Haruto to stay at her home, after he is kicked out of his house. The chapter was released on October 29, 2017.[8]
Chapter 61: released on November 26, 2017.[9] Kei approaches Oto at work and befriends her manager.
Chapter 62: Haruto celebrates his eighteenth birthday with Oto. It was published in December 2017.[10]
Chapter 63: published on December 24, 2017 in Japan and America.[11] Airi confides in Haruto about her crush on Tenma.
Editions
See also: Foreign editions of Boys Over Flowers
Sourth Korea: the volume was published in Korean as 꽃보다 맑음9 on October 30, 2018.[12]
Taiwan: on May 28, 2018, it was released as Meteor Garden Next Season 9 (流星花園~Next Season~9) by Tong Li Comics.[13]
Notes
Kamio used this volume's cover art as her Twitter icon until she changed it to the cover art for volume ten.
A special book, titled Hana Yori Dango 37.5, was given to customers at select stores in Japan with the purchase of Season 2 volume nine. The book is a collection of Cafe de Hanadan.[14][15]
References
See also
External links