Hana Yori Dango: The Movie, also known as Hana Yori Dango (花より男子, Hana Yori Dango), is a short anime film released on March 8, 1997 at the Spring Toei Anime Fair.[1][2] Shigeyasu Yamauchi, who directed the Boys Over Flowers anime, also directed the film. The film starred Maki Mochida as the voice of Tsukushi Makino, along with Naoki Miyashita and Koji Yamamoto as Tsukasa Domyoji and Rui Hanazawa.
It is set in an alternative universe, where Tsukushi Makino is an inspiring dancer on Broadway.[3] The film was released in Japan by itself on VHS in 1997 and later in a box set with the anime series in 2006. In 2016, Discotek Media released the movie in America also in a box set.
Plot
Tsukushi Makino is an apprentice at Freedom Dance Studios, though she spends most of her time cleaning and doing the laundry. She longs to dance on stage, but has not yet been given the chance. Every night she returns to her trailer by the seashore, where she practices hard to become a professional dancer.
The next day, Tsukasa Domyoji and Rui Hanazawa spot Tsukushi dancing on the studio's stairway. She runs away and up the stairs just as Asai and her friends pass by and push her back down. The laundry she was carrying goes everywhere and a pair of panties lands on Tsukasa's head. He feels insulted and Tsukushi apologizes at first but stands up to his brashness. Rui picks up a handkerchief and says a few words to Tsukushi as she stares back at him.
That night Sakurako Sanjo, Tsukasa, and the others are practicing for the upcoming production. Tsukushi's friend, Kazuya Aoike is in charge of the spotlight. One spotlight falls and its chord injures Sakurako's leg. Therefore, Kazuya is fired by the manager and says a tearful farewell to Tsukushi, before returning home. Sakurako's leading role is being recast, and Tsukasa insists that "he will choose his own partner". Surprisingly, he gives Tsukushi a chance for the role, but she fails to keep up with him.
Tsukushi begins practicing at home and later at the park, where she runs into Rui. He plays the saxophone as she dances, while being encouraged by some locals. She remarks how comfortable she feels around him, but insists that she is not love. Later, Tsukushi sees Rui kiss the beautiful prima donna, Shizuka Todo, who asks Rui to return to Paris with her.
In shock, Tsukushi goes to practice at the studio. Tsukasa shows up and helps her practice. Tsukushi decides to give up her dream, and attempts to say goodbye to the stage. Rui starts to play the piano and asks her to dance. She falls again, but Tsukasa catches her and asks her to be his partner. "Ordinary Sunday" plays at Tsukushi's first performance as it shows her and her friends realizing their dreams.
Cast and characters
Additional voices: Norito Yashima, Yusuke Oguri, Daisuke Kishio, Naomi Matamura[4]
Staff
Director: Shigeyasu Yamauchi
Script: Yumi Kageyama
Producers: Tan Takaiwa, Tsutomu Tomari
Editing: Masaaki Hanai
Planning: Hiromi Seki
Key animation directors: Yuji Kondo, Tomoaki Matsumoto
Assistant director: Tatsuya Nagamine
Art director: Yuki Yukie
Photography: Kazuhiro Yoshino
Music: Michiru Oshima
Production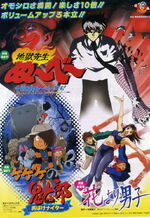 Shigeyasu Yamauchi
, the series director of
Boys Over Flowers
, returned to direct the film along with screenwriter Yumi Kageyama, who wrote several scripts for original anime. The majority of the staff from the anime returned.
[3]
The voice actors from the series also came back, including leads
Maki Mochida
,
Naoki Miyashita
,
Koji Yamamoto
, several minor characters, and background voices.
[4]
Hana Yori Dango was released on March 8, 1997[1] at the Toei Anime Fair in several theaters across Japan.[5] The films, Hell Teacher Nūbē: Gozen 0 toki Nūbē Shisu and GeGeGe no Kitarō, also premiered the same day.[6]
Home media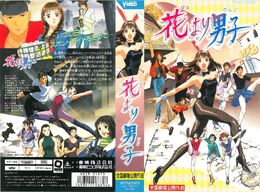 See also: Boys Over Flowers home media
Hana Yori Dango: The Movie was first released on video cassette on November 14, 1997.[7] The movie was later included on the DVD-Box sold by Toei on May 21, 2006.[8] It is unknown if the movie was included on one of the individual releases of the DVDs.
The film was released on October 25, 2016 in America by Discotek Media, who released it in a box set with all fifty-one episodes of the anime.[9][10] It is only available with English subtitles. A trailer for the film was also included as a special feature on the DVD.
Music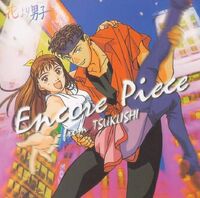 Main article: Encore Piece from Tsukushi
Encore Piece from Tsukushi is the soundtrack to Hana Yori Dango: The Movie as well as the second soundtrack for the anime series. It was released on March 21, 1997 by Bandai Music Entertainment. Background music from the original anime and the movie can be found on the soundtrack.
"Ordinary Sunday" by Tomohiko Kikuta is the theme song of the movie and the anime series. It is heard at the beginning of the film and played again at the end against the opening animation of the original series.
Gallery
| | |
| --- | --- |
| | Boys Over Flowers Wiki has a collection of images on this topic. (view gallery) |
Notes
The movie aired exactly one day before the premiere of the anime episode, "Sleepless Night!"
References
See also
External links
Community content is available under
CC-BY-SA
unless otherwise noted.