Jun Matsumoto (松本 潤, Matsumoto Jun, born August 30, 1983 in Tokyo, Japan) is a Japanese actor and musician. He starred as Tsukasa Domyoji in Hana Yori Dango, Hana Yori Dango Returns, and Hana Yori Dango Final. Matsumoto also had a cameo in Hana Nochi Hare.
He is a member of Arashi, who performed the theme songs "Wish", "Love So Sweet", and "One Love" for the Hana Yori Dango series. Arashi is one of Japan's best-selling boy bands
Biography
Early life
Matsumoto was born on August 30, 1983 in the Toshima ward of Tokyo.[1] He has an sister named Megumi (恵, Megumi) who is two years older. A fan of KinKi Kids, she inspired Matsumoto to apply for Johnny & Associates.[2] Matsumoto is a graduate of Horikoshi High School, a school well known for its celebrity students.[3]
Career
Beginnings
In 1996, he sent an application to Johnny & Associates. The agency's founder Johnny Kitagawa called him to enter the agency, bypassing the usual audition process.[4] Matsumoto made his television debut in 1997 with the special, Hoken Chosain Shigarami Taro no Jikenbo. The same year, he costarred with future bandmates Masaki Aiba and Kazunari Ninomiya in a stage play based on Stand by Me.[5] Matsumoto went on to appear in his first serial drama, Bokura no Yuki: Miman Toshi (1997), starring Aiba.[6] Matsumoto's first film Shinjuku Shonen Tanteidan, which also starred Aiba, was released the following year. He also appeared in the television series, Boys Be...Jr and Hitsuyo no Nai Hito in 1998.[7]
In 1999, Matsumoto formed Arashi with Satoshi Ohno, Sho Sakurai, Aiba, and Ninomiya.[4] Their first single was released in November 1999[8] and reached number one on the Oricon Singles Chart.[9] The band members starred together in the mini-drama V no Arashi later that year.[10] In 2001, Matsumoto had his first starring role in Kindaichi Shonen no Jikenbo as Hajime Kindaichi.[11] (2001). He gained further recognition in Gokusen (2002),[12] which earned him Best Supporting Act at the 33rd Television Drama Academy Awards.[13] The same year, he and his bandmates starred in the film Pikanchi Life Is Hard Dakedo Happy. It was followed by two sequels.[14] In 2003, he appeared opposite Koyuki in the television drama, Kimi wa Petto.[15]
Stardom
Matsumoto starred as Tsukasa Domyoji in the mega-popular drama Hana Yori Dango with Mao Inoue in 2005. Arashi's single "Wish" served as its theme song.[16] Matsumoto reprised his role in a second drama, Hana Yori Dango Returns (2007)[6] and a film, Hana Yori Dango Final (2008).[17] Arashi's "Love So Sweet" and "One Love" were the theme songs of Returns and Final, respectively.[18][19] In 2007, he starred in the series, Bambino!,[20] for which he won an award for Best Actor,[21] and the films, Boku wa Imoto ni Koi o Suru[22] and Kiiroi Namida.[23] The following year, he had the lead role in Kakushi Toride no San-Akunin: The Last Princess, a remake of an Akira Kurosawa film,[24] and the television film Myu no Anyo Papa ni Ageru.[25]
In 2009, Arashi celebrated their tenth anniversary with a national tour and the release of their third greatest hits album.[26] That year, Matsumoto also portrayed a half-Filipino, half-Japanese man in Smile.[27] Matsumoto appeared with his fellow Arashi members in Saigo no Yakusoku (2010), their first drama together in nearly ten years.[28] The same year, he also appeared in Wagaya no Rekishi[29] and Natsu no Koi wa Nijiiro ni Kagayaku,[30] as well as a guest appearance in Kaibutsu-kun starring Ohno.[31] In 2012, he starred in Lucky Seven with Nanako Matsushima.[32] He first played his Lucky Seven character in Mou Yuukai Nante Shinai.[33] Matsumoto also reprised it in a special.[34] In 2013, he starred in Girl in the Sunny Place, which was his first film in five years.[35]
Continued success
Matsumoto appeared in the television drama, Shitsuren Chocolatier in 2014.[36] In 2016, he starred in 99.9% Keiji Senmon Bengoshi, his fifth collaboration with Hana Yori Dango producer Katsuaki Setoguchi.[37] Matsumoto returned to the series for a second season in 2018.[38] The same year, Matsumoto had a cameo as Tsukasa in Hana Nochi Hare.[39] That November, Arashi started their twentieth anniversary tour.[40] Arashi announced in January 2019 that they will suspend the group after December 31, 2020.[41] In July 2019, Matsumoto appeared in a television special playing Takeshiro Matsuura, a Japanese explorer.[42] Arashi opened an official YouTube in October 2019,[43] followed by several social media accounts the next month.[44]
Filmography
Television dramas
Year
Title
Role
Notes
1997
Hoken Chosain Shigarami Taro no Jikenbo
Shunichi Yoneda
Special
Bokura no Yuki: Miman Toshi
Mori
Mo Hitotsu no Shinzo
Toru Kitamura
1998
Boys Be...Jr
Yu
Episode 1
Hitsuyo no Nai Hito
Takuji Ohno
1999
Nekketsu Renaido
Retsu Nikaido
Kosuke Fukunaga
Episodes 2, 11
Kowai Nichiyobi
S
Episode 10
V no Arashi
Jun Matsumoto
2000
Shijo Saiaku no Deto
Yusuke
2001
Mukai Arata no Dobutsu Nikki
Hajime Kindaichi
Episode 10
Kindaichi Shonen no Jikenbo
Hajime Kindaichi
2002
Gokusen
Shin Sawada
Gokusen Returns: Soshuhen and Shiwasu no Yankumi
Shin Sawada
Special
2003
Yoiko no Mikata
Shin Sawada
Episode 9
Gokusen: Sayonara 3-nen D-gumi
Shin Sawada
Special
Kimi wa Petto
Momo/Takeshi Goda
2005
Propose
Kosuke Sato
Episode 1
Hana Yori Dango
Tsukasa Domyoji
2006
Yonimo Kimyo na Monogatari
Kazuo Takada
Special
2007
Hana Yori Dango Returns
Tsukasa Domyoji
Bambino!
Shogo Ban
2008
Myu no Anyo Papa ni Ageru
Hayato Yamaguchi
Special
2009
Smile
Vito Hayakawa
2010
Saigo no Yakusoku
Nozomu Goto
Special
Wagaya no Rekishi
Yoshio Yame
Kaibutsu-kun
Kaibutsu-kun's butler
Episode 9
Natsu no Koi wa Nijiiro ni Kagayaku
Taiga Kusunoki
2011
Bartender
Himself
Photo only
2012
Mou Yuukai Nante Shinai
Shuntaro Tokita
Guest
Lucky Seven
Shuntaro Tokita
2013
Lucky Seven Special
Shuntaro Tokita
Special
Hajimari no Uta
Wataru
Special
2014
Shitsuren Chocolatier
Sota Koyurugi
2016
99.9% Keiji Senmon Bengoshi
Hiroto Miyama
2017
Bokura no Yuki: Miman Toshi 2017
Mori
Special[45]
2018
99.9% Keiji Senmon Bengoshi: Season II
Hiroto Miyama
Hana Nochi Hare: Hanadan Next Season
Tsukasa Domyoji
Guest
2019
Eien no Nishipa
Takeshiro Matsuura
Special
Films
Stage
Year
Title
Role
Notes
1997
Stand by Me
Teddy
Johnny's Fantasy: Kyo to Kyo - All Johnny's Jr.
Himself
2004
West Side Story
Bernardo
2005
East of Eden
Caleb Trask
2006
Byakuya no Valkyrie
Flying Sasuke
2011
A, Koya
Shinji Shinjuku
Notes
Matsumoto is frequently referred to as MatsuJun (松潤) by fans.
He and Shun Oguri starred in season one of Gokusen together, prior to Hana Yori Dango.
Due to a policy with his agency, Matsumoto's face could not be used on certain promontional photos for the series. In some of these cases, an image of Tsukasa from the manga was used.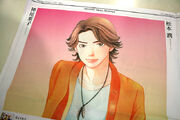 References
External links
Community content is available under
CC-BY-SA
unless otherwise noted.