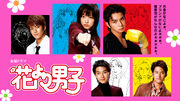 Boys Over Flowers
is a long-running shojo manga by
Yoko Kamio
. First published in 1992,
[1]
the series has spawned and inspired many adaptations, including a
film
, an
anime
, television series', and musicals. The first live-action television adaptation, titled
Meteor Garden
, was produced in Taiwan in 2001.
[2]
It was followed by
Meteor Rain
(2001)
[3]
and
Meteor Garden II
(2002). Two Japanese adaptations,
Hana Yori Dango
and
Hana Yori Dango Returns
, were released in 2005 and 2007. The Japanese series ended with a 2008 film,
Hana Yori Dango Final
.
[1]
In 2009, the manga was adapted into a successful
Korean drama
,
[4]
which was followed by a short
music drama
.
[5]
A
remake
of
Meteor Garden
was released in 2018.
[6]
The premise of Boys Over Flowers has gained a considerable popularity, probably due to the international success of its many adaptations. As such, this has lead to production of several unlicensed and/or loosely-based versions. Siapa Takut Jatuh Cinta (2002, 2017), Meteor Shower (2009), Boys Before Friends (2013), and Kaisi Yeh Yaariaan (2014) are the best known examples.
Official
Japan
Hana Yori Dango (1993): an audio drama comprised of three parts. It was released between 1993 and 1994. Takuya Kimura starred as the voice of Rui Hanazawa.
Hana Yori Dango (1995): a film released in August 1995.[7] The film starred Yuki Uchida, Shosuke Tanihara, and Naohito Fujiki. It was the first live-action adaptation of Boys Over Flowers.
Boys Over Flowers (1996): a fifty-one episode animated version that aired from September 1996 to August 1997. Maki Mochida and Naoki Miyashita were the voices of the series leads', Tsukushi and Tsukasa. It was followed by a short film in 1997.
Hana Yori Dango (2005): the second live-action television adaptation of the manga. It starred Mao Inoue as Tsukushi, Jun Matsumoto as Tsukasa, and Shun Oguri as Rui.[8] The drama aired for nine episodes from October to December 2005.[9] Like Meteor Garden before it, Hana Yori Dango was successful and received high ratings.
Hana Yori Dango Returns (2007): the sequel to 2005's Hana Yori Dango.[10] Inoue, Matsumoto, Oguri, Shota Matsuda, and Tsuyoshi Abe returned from the previous series.[11] It aired for eleven episodes from January to March 2007. The drama also had high ratings, peaking at 27.6% for the finale.
Hana Yori Dango Final (2008): a film conclusion to Hana Yori Dango.[12] The film premiered on June 28, 2008.[13] It earned approximately 7.75 billion yen (US$83.5 million) at the Japanese box office.[14] Inoue and Matsumoto again starred as Tsukushi and Tsukasa in the film.
Hana Yori Dango: The Musical (2016): a musical adaptation of Boys Over Flowers was first announced in April 2015.[15] The musical opened on January 5, 2016.[16] It starred Ririka Kato as Tsukushi, Yuya Matsushita as Tsukasa, and Jin Shirasu as Rui.[17]
Hana Yori Dango (2019): a musical performed by the Flower Troupe of the Takarazuka Revue.[18] It starred Rei Yuzuka as Tsukasa and Mirei Shiroki as Tsukushi.[19]
Taiwan
Meteor Garden (2001): made in Taiwan, the series was also the first television drama adaptation of Boys Over Flowers.[20] The drama propelled Barbie Hsu, Jerry Yan, Vic Chou, Vanness Wu, and Ken Chu into super stardom,[21] compelling the four male leads to form the idol band, F4, now known as JVKV.[22] Meteor Garden was a huge success and gained a fanbase in several countries throughout Asia.
Meteor Rain (2001): a four-episode follow-up to Meteor Garden. Each episode of the series follows a different F4 member, except Vic Chou, who was busy filming something else.[23] It aired in late 2001, shortly after the end of Meteor Garden. Peien Chien, Aisa Senda, and Mai Sato guest starred in the series.
Meteor Garden II (2002): the sequel to Meteor Garden. Unlike its predecessor, the sequel is only partially based on Boys Over Flowers.[24] It aired on CTS in 2002.[25] The lead cast was joined by Michelle Saram, who played a rival to Barbie Hsu's Shan Cai.[26]
South Korea
Boys Over Flowers (2009): a Korean live-action television version of Boys Over Flowers.[13] The drama aired from January[27] to March 2009 for twenty-five episodes.[28] It starred Ku Hye-sun, Lee Min-ho, Kim Hyun-joong, Kim Bum, and Kim Joon.[29]
Boys Over Flowers: The Musical (2017): a Korean adaptation of the Japanese musical. Yumi Suzuki, who directed the original, traveled to South Korea to direct the new version.[30] The musical premiered on February 24, 2017 in Seoul.[31] It featured a large cast of high-profile stars, such as Min, J-Min, Lee Chang-sub, Ken, and Lee Sung-min.
China
Unlicensed and loosely-based
Note: the following television series are not official adaptations, but resemble Boys Over Flowers enough to be considered either unlicensed/unauthorized or loosely-based.
Similar themes
Note: the following television series are not considered adaptations in any capacity, but have been remarked by fans as similar to the original manga or any of its adaptations.
References
See also
Community content is available under
CC-BY-SA
unless otherwise noted.