Minako Yamano (山野 美奈子, Yamano Minako) was a student at Eitoku University. She and her best friends, Yuriko Asai and Erika Ayuhara, formed the group known as the Lilies. Minako and her friends bullied Tsukushi Makino in high school.
Biography
High school
Minako enrolled at Eitoku Senior High. She was in the same class as her best friends Yuriko Asai and Erika Ayuhara. Tsukushi Makino was also in her class.[1]
Bullying Tsukushi
She and her friends became jealous of Tsukushi for being around the F4. They wrote "Tsukushi Makino - only girl in her school who had two abortions" on their classroom's blackboard. Tsukushi later saw them wiping away the words and they pretended to like Tsukushi. They then invited her to a fancy party. At the party, they made fun of her casual clothes and treated her rudely. They eventually revealed that they wrote the rumor.[1] The girl's attention was taken away by a rich man. Later, they had assumed that Tsukushi had left. However, she had stayed and got revenge by embarrassing Yuriko. She then called them all "parasites." The next day, the girls spied on her talking to Rui Hanazawa. Afterwards, they told her about Shizuka Todo and began making fun of her. Tsukasa Domyoji suddenly showed up and yelled at them to leave her alone.[2]
A few days later, the whole school began bullying Tsukushi again after her friend Kazuya Aoike had received a red card. The girls found their hiding place and started shouting their location to the other bullies. Minako then said "We're going to enjoy watching the chase."[3] That summer, they went with the F4 to Atami on Tsukasa's yacht. The girls were irritated to find Tsukushi on the beach, and even more so when Shizuka invited her to that night's party.[4]
Physical appearance
Minako resembled her friend Yuriko in that they had similar facial features, height, and body shape. She usually wore a headband in hair, or otherwise wore it up into a bun. Her wardrobe outside of school was composed of name-brand clothing.
Personality and traits
Like her friends, Minako was greedy who pursued men only for their money. Her goal was to marry a rich man, like one of the F4. She also looked down on others of a lower financial status. Minako's favorite brand was Chanel.
Behind the scenes
See also: Category:Minako Yamano portrayals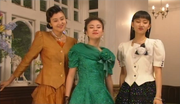 Appearances
Boys Over Flowers
Volume 4
Volume 5
Volume 6
Volume 7
Volume 8
Volume 9
Volume 10
Volume 11
Volume 12
Volume 13
Volume 14
Volume 15
Volume 16
Volume 17
Volume 18
Volume 19
Volume 20
Volume 21
Volume 22
Volume 23
Volume 24
Volume 25
Volume 27
Volume 28
Volume 29
Volume 30
Volume 31
Volume 32
Volume 33
Volume 34
Volume 35
Volume 36
Other
References