"Shall I Talk About Myself? Part 1" (俺の話をしようか Ore no Hanashi o Shiyō ka[2]) is a special chapter published in Margaret in January 2008. The story is told from Rui Hanazawa's point-of-view. It was followed by a sequel, "Shall I Talk About Myself? Part 2" in February.
Plot
Coming Soon!
Character appearances
Production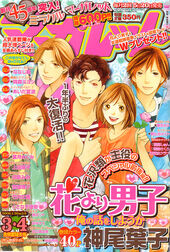 Yoko Kamio
was commissioned to write a new eighty-page
Boys Over Flowers
story for
Margaret
. She picked Rui to be the main character, because he was the one she most wanted to do a story on. Kamio was also working on
Cat Street
at the time, delaying the story's outline by six months. The story took another five months to write.
[3]
The chapter was titled "俺の話をしようか" and the first half was published in Margaret No.3-4 on January 4, 2008.[1] It was included in the thirty-seventh volume of Boys Over Flowers. Viz Media published the story as "Shall I Talk About Myself?" in Boys Over Flowers: Jewelry Box.
References
See also